Dynamic Meditation – schreeuw, dans, huil… Gooi alles eruit!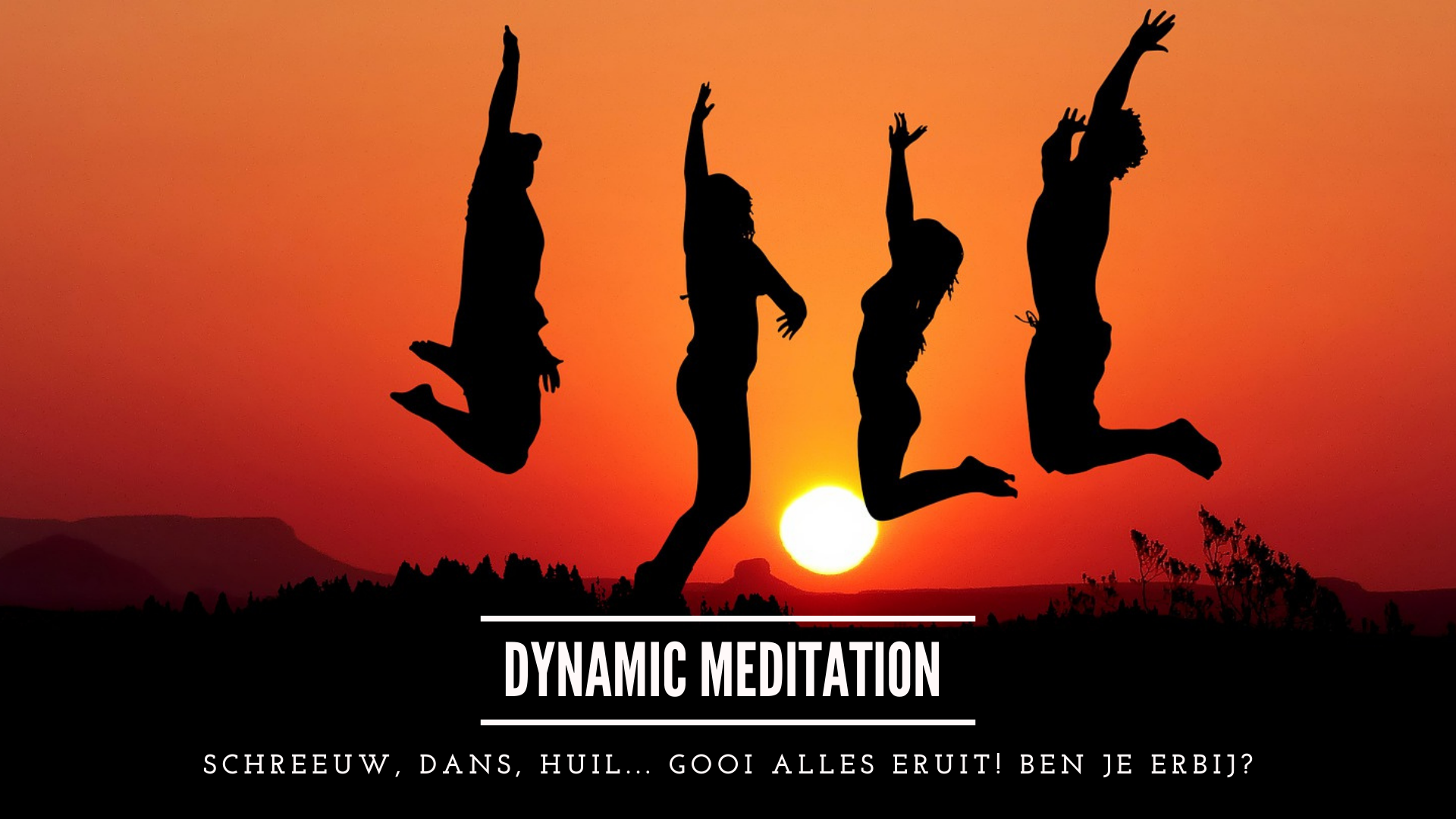 Dynamic Meditation in Groningen
Heerlijk ongegeneerd keihard schreeuwen en brullen, hysterisch huilen, wild springen, gek dansen, uitbundig lachen…. Hoe lijkt het je om al je onderdrukte emoties er uit te gooien! Fijn? Een opluchting? Heerlijk?
Dit is je kans! Kom meedoen aan de Dynamic Meditation. Deze actieve meditatie duurt 1 uur en bestaat uit 5 fases. Bij de eerste ligt de focus op de ademhaling, tweede fase emoties eruit gooien, derde fase springen, vierde fase stilte, vijfde fase vrij dansen. Dit alles met gesloten ogen in je eigen 'bubbel'.
De Indiase wijze Osho heeft deze meditatie bedacht voor de moderne westerse mens. Volgens hem hebben wij zoveel -fysieke en mentale- spanningen dat een rustige meditatie vaak minder goed werkt. Doordat je eerst je emoties uit en intensief beweegt, kun je gemakkelijker met je volle aandacht in het moment Zijn. Het is een heerlijke manier om je dag levendig en opgeruimd te beginnen!
De locatie is ruim (een gymzaal). We hebben er privacy en de ramen (en evt. deur) kunnen open om te ventileren. Ideaal dus. En er zijn zelfs bokszakken om tegenaan te slaan.
PRAKTISCH:
– Bijdrage: €15 (of €10 voor laag inkomen)
– Gemakkelijke kleding aan of mee (geen schoenen).
– Lege maag (of alleen wat fruit ruim van tevoren).
– UITLEG: 9.15 uur (kom ajb wat eerder)
– START: 9.30 uur (kom ajb wat eerder)
– Oliemuldersweg 43, Groningen.
>>> DEELNAME alleen na AANMELDING VIA EMAIL!!!
BELANGRIJK:
Kun je zondag niet, maar wil je graag een andere dag meedoen?
Of wil je een keer de Dynamic Meditation Challenge doen (21 dagen achter elkaar)?
Mail me! Want vraag => aanbod.
DOE JE MEE?
1) Meld je dan nu aan per email! =verplicht
2) Zet als het kan ook jezelf op Gaat bij het fb evenement.
Je bent van harte welkom, precies zoals je bent.
Shivani
info@tantra-awakening.com
[ENGLISH]
Scream, cry, jump, dance, laugh… What if you could express all of your suppressed emotions? Sounds good? It is!
So this is your chance. Come and join the Dynamic Meditation. It lasts for one hour and consists of 5 phases. In the first one the focus is on the breathing, second phase expressing emotions, third phase jumping, fourth phase silence, fifth phase free dancing. Everything with eyes closed, in your own 'little world'.
The wise mystic Osho from India designed this meditation for the modern western men and women. In his opinion it's more effective than a meditation where you only have to sit still, because of all of our tensions. By first moving and releasing emotions, it becomes easier to be fully present in the moment and experience silence. It's a great way to boost your day!
>>> PARTICIPATION only after REGISTRATION BY EMAIL or PM.
PRACTICALITIES:
– Price: €15 (or €10 for low income)
– Wear comfortable clothes (no shoes).
– Empty stomach.
– INSTRUCTIONS: 9.15 am
– START MEDITATION: 9.30 am (make sure to be there a bit early)
– Oliemuldersweg 43.
IMPORTANT:
Would you like to join some other day?
Or do a Dynamic Meditation Challenge (21 days in a row)?
Email me! Your demand => my offer.
JOINING?
1) Register by sending me an email / PM = obligatory
2) Hit the Going button on this
fb event
.
You are very welcome, just as you are.
Shivani
info@tantra-awakening.com
24 October
Sunday @ 09:15 - 10:45
Details
Start:

October 24 @ 09:15

End:

October 24 @ 10:45

Event Category:
Venue
Oliemuldersweg 43
Oliemuldersweg 43
Groningen, 9713 VA Netherlands
+ Google Map