Experience the gifts of darkness – tantra workshop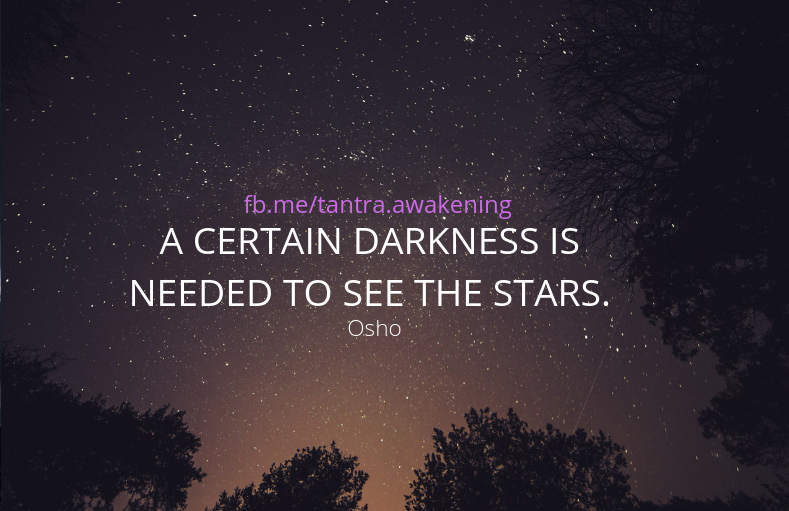 [English below]
Oktober 2018 heb ik 10 dagen in totale duisternis doorgebracht. Ja, 240 uur. Ik kon helemaal niks zien. Ook waren er geen geluiden of andere mensen. Ik zat in een speciale kamer, in een heuvel, helemaal alleen, en was voornamelijk aan het mediteren (of aan het slapen ;-)). Zoals je je kunt voorstellen, was het een hele bijzondere ervaring.
Het heeft me geïnspireerd om deze workshop te creëren. Tijdens deze mooie avond zullen we NIET in totale duisternis zijn; er zal wat zachte, prettige verlichting zijn. We zullen gewoon onze ogen sluiten en/of een blinddoek gebruiken (alleen tijdens een deel van de workshop).
Je krijgt de kans om:
• te ervaren hoe het is als je andere zintuigen (reuk, smaak, etc.) veel gevoeliger worden.
• vragen te stellen over mijn tijd in het donker.
• een dieper gevoel van vrede en stilte te ervaren.
• Een zachte én krachtige meditatie te ontdekken die helpt bij het openen van het 3e oog.
Mijn naam is Elien (Ma Prem Leena) en ik kijk ernaar uit mijn liefde voor tantra met je te delen. Wat ik zo mooi vind aan tantra, is dat het alle aspecten van mezelf als spiritueel wezen én als mens omvat.
Tantra wil niet dat je vecht tegen je mens-zijn, zoals je boosheid, je verdriet, je dierlijke kant, je vreugde, je angsten, je drukke hoofd, je sensualiteit, je seksualiteit. Tantra nodigt je uit alle aspecten van je mens-zijn te omhelzen en ze juist bewúst te doorleven. Met aandacht.
Door bewust alles van mijzelf te doorleven, heb ik de diepste spirituele ervaringen gehad. Sommige waarvan ik niet eens wist dat ze mogelijk waren voor een 'eenvoudige mens' zoals ik 😉
Ik heb een 2-jarige Tantra-docentenopleiding gedaan bij een van de bekendste tantradocenten ter wereld, Ma Ananda Sarita. Zij woonde in Osho's gemeenschap sinds haar 17e en bleef daar tot haar 43e. Alles wat zij heeft geleerd als tantradocente, komt dus rechtstreeks van hem. Ik voel me dankbaar om zoveel tantrameditaties en –oefeningen van Sarita te hebben mogen ontvangen, en ook van mijn Indiase tantraleraar, Anahata, die samen met haar lesgeeft.
Dit voorjaar geef ik een tantra-cursus van 8 weken in Groningen! Als je nieuwsgierig bent, like dan even de fb-pagina van Tantra Awakening om op de hoogte te blijven.
Je bent welkom precies zoals je bent! Ervaring met tantra is niet nodig.
Liefs, Elien (Ma Prem Leena)
FACEBOOK PAGINA
fb.me/tantra.awakening
PRAKTISCH
• Tantric moments is elke vrijdag
• €15,- (€12,- met kaartsysteem)
• Meer info: http://www.tantricmoments.nl/
• Draag comfortabele kleding
• We houden onze kleren aan (er is geen naakt)
• Neem gerust je eigen blinddoek mee als je er een hebt
NIEUWE LOCATIE
Happy Yoga – Oosterhamriklaan 261a, Groningen
>>>ENGLISH<<<
October 2018 I spend ten days in total darkness. Yes, 240 hours. I could see absolutely nothing. Neither were there any sounds nor people. I was in a special room in a hill, all by myself, mainly meditating (and sleeping ;-)). As you can imagine, it was a very special experience.
It inspired me to create this workshop. During this beautiful evening we WON'T be in total darkness; there will be some nice soft lights. We will simply close our eyes and/or use blindfolds (only during a part of the workshop).
You will get the chance to:
• Experience your other senses (smell, touch, etc.) becoming a lot more sensitive.
• Ask questions about my time spend in darkness.
• Feel a deeper sense of peace.
• Experience a soft yet powerful meditation that works on opening the 3rd eye.
My name is Elien (Ma Prem Leena) and I look forward to sharing my love for tantra with you. What I love about tantra is that it includes all aspects of myself as a human –and spiritual– being.
Tantra is not about fighting our humanness – our anger, our sadness, our animal side, our joy, our fears, our busy minds, our sensuality, our sexuality. Tantra is about fully embracing and living all aspects of our self, but with awareness! Consciously.
By consciously living all of me, I've gotten the deepest spiritual experiences. Some I didn't even know were possible for a 'simple human being' like myself 😉
I did a 2 year Tantra Teacher Training with one of the most world-renowned tantra teachers, Ma Ananda Sarita. She lived in Osho's commune since age 17 and stayed there until she was 43. She got all of the tantric teachings straight from him. I feel grateful to have received many teachings from Sarita, as well as from my beloved teacher Anahata, who is from India and is co-teaching with her.
This spring I will offer an 8 WEEK TANTRA COURSE in Groningen! If you're curious, please like the Tantra Awakening fb page to stay updated.
You are welcome just as you are! There's no tantra experience needed.
Love, Elien (Leena)
FACEBOOK PAGE
fb.me/tantra.awakening
PRACTICALITIES
• Tantric moments is every Friday: http://www.tantricmoments.nl/
• €15,- (€12,- with card system)
• Wear comfortable clothing
• We keep our clothes on (there is no nudity)
• Feel free to bring your own blindfold if you have one
NEW LOCATION
Happy Yoga – Oosterhamriklaan 261a, Groningen
25 January
Friday @ 19:30 - 22:30
Details
Start:

January 25 @ 19:30

End:

January 25 @ 22:30

Event Category:
Venue
Happy Yoga
Oosterhamriklaan 261a
Groningen, 9715 SM Netherlands
+ Google Map